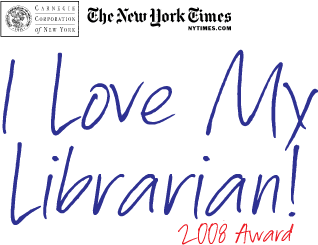 The Carnegie Corporation of New York/New York Times I Love My Librarian Award encourages library users to recognize the accomplishments of exceptional public, school, college, community college, or university librarians. The awards program will demonstrate how librarians are improving the lives of the people in their communities.
Up to ten winners will be selected annually and will receive a $5,000 cash award, a plaque and $500 travel stipend to attend an awards reception in New York hosted by The New York Times at TheTimesCenter on December 9, 2008. In addition, a plaque will be given to each award winner's library.
The award is administered by the American Library Association with support from Carnegie Corporation of New York and The New York Times.
Eligibility Requirements
Who Can Nominate a Librarian
Nominators of public librarians must be public library users.
Nominators of librarians in college, community college or university libraries must be users of those libraries, e.g. students, faculty, or staff members.
Who Can Be Nominated
Each nominee must be a librarian with a master's degree from a program accredited by the ALA in library and information studies or a master's degree with a specialty in school library media from an educational unit accredited by the National Council for the Accreditation of Teacher Education. Nominees must be currently working in the United States in a public library, a library at an accredited two- or four-year college or university or at an accredited K-12 school.
Timeline for Nominations
Nominations for public libraries are open and must be completed by October 1, 2008. Nominations for college, community college, or university librarian and school library media specialists open September 2 and must be completed by October 15, 2008.
Nominate a Public Librarian | Nominate a College, Community College or University Librarian