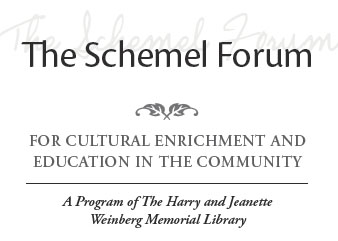 The Fall 2010 Schemel Forum schedule is here!
As usual, the Weinberg Memorial Library and the Schemel Forum have prepared a fantastic calendar of evening courses, luncheons, and concerts for your intellectual enjoyment.  Like Dr. Denise Fulbrook's six-session evening course on "The Absolutely Fabulous, Suspiciously Witty Work and Legacy of Jane Austen," or National Museum of American History director Brent Glass's luncheon titled "America Engaged in the World: Cultural Diplomacy Still Works!"
We're especially looking forward to this year's University for a Day on October 2, when authors Christopher Hitchens and Jay Parini will discuss "Books and Argumentation" with moderator Attorney Morey M. Myers.
If you'd like to join us for an event, just contact Kym Balthazar Fetsko, our Schemel Forum Events Coordinator, at 570-941-7816 or fetskok2@scranton.edu.