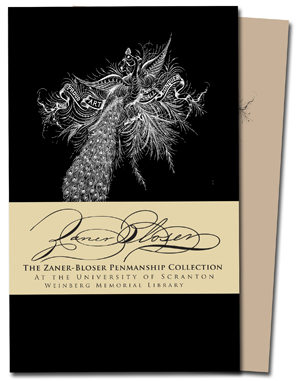 This holiday season, the Weinberg Memorial Library is selling a new line of limited edition Moleskine® notebooks, inspired by the calligraphic and ornamental masterworks preserved in the Library's Zaner-Bloser Penmanship Collection.
Featured on each notebook is "The Proud Art Shall Conquer," a peacock flourish by master penman Fielding Schofield (1845-1924). Schofield's work references the motto of 19th century professional penmanship journal The Teacher of Penmanship:
"The Proud Art of Beautiful Writing Shall Conquer the Hearts of All Men." 
On campus, the notebooks are available for purchase at the Weinberg Memorial Library's 1st floor Circulation desk for the price of $20.00 per set (cash or check). Off campus, the notebooks are available for order at $20.00 per set plus shipping and handling. You can either fill out and send in one of our order forms (to pay by check) or contact our Special Collections library at 570-941-7002 to put in a credit card order.
All proceeds benefit the care, preservation, and digitization of the Zaner-Bloser Penmanship Collection.

These Moleskine® Large Cahier notebooks are 5″ x 8.25″ with 80 acid-free pages and are packaged in sets of two — one in black with ruled paper, and one in craft with blank paper.  Graphic artist April Francia, a University of Scranton sophomore double majoring in Political Science and Philosophy, created the notebook covers and decorative paper bands (as well as the Zaner-Bloser Collection logo) by manipulating digitized images of ornamental penmanship in Adobe Illustrator.
(Updated November 15, 2012 with off-campus ordering information)