Note: This article is the first in a series highlighting the P. W. Costello and Family Art Collection, an online repository for digitized images of original and published artwork by master penman P. W. Costello (1866-1935) and his descendants. This digital Collection was recently donated to the Weinberg Memorial Library by Thomas W. Costello, great-grandson of the artist, and is available to the public online at www.scranton.edu/library/costello.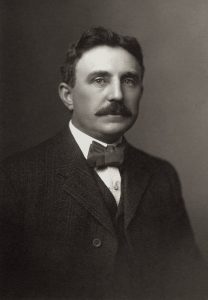 Scranton, Pennsylvania was at one time a thriving center for live performance – particularly theatre – and was a frequent stop for plays, musicals and vaudeville acts on their way to New York City.  A number of beautiful and often lavish theatres were built throughout the city and housed historic performances by many popular and up-and-coming talents of the day.  Some of these people and events were captured artistically in drawings by P. W. Costello (1866-1935), a talented and highly skilled master penman from the Minooka section of Scranton (shown at left in 1906). Digitized images of these theatre-related drawings are a highlight of the P. W. Costello and Family Art Collection, recently acquired by Weinberg Memorial Library through the generosity of Thomas W. Costello, great-grandson of the artist.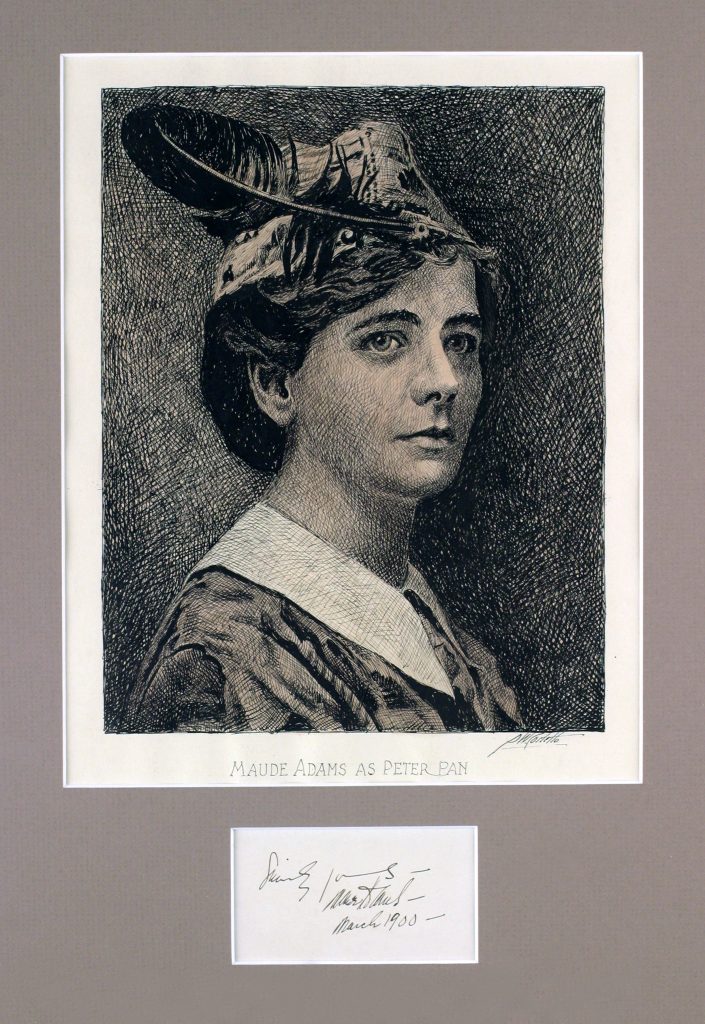 In the late 1890s, P. W. Costello was gaining a reputation for the high-quality engrossings, portraits, and ornamental penmanship he produced from his downtown studio. At the same time, he was a local restauranteur, serving as joint proprietor (with James Fleming) of the Arbor Café on Wyoming Avenue.  Costello used the Café walls as a gallery, displaying his sketches of local and national figures that lined the walls of this restaurant. A number of these drawings depicted actors and actresses who had performed close to the restaurant at such theatres and venues as the Lyceum, the Poli, the Majestic, and the Academy of Music.  Performers captured by Costello who made Scranton appearances included Maude Adams (well-known for her lead role in J. M. Barrie's Peter Pan, pictured in Costello's drawing at right), Junius Brutus Booth (father of Lincoln assassin John Wilkes Booth), Maclyn Arbuckle (who, although originally a stage actor, went on to start his own silent film company), Alice Brady (actress and daughter of New York producer William A. Brady) and Robert Edeson (veteran stage and silent film actor who appeared in at least four Scranton stage productions).  Most of these drawings are black and white pen and ink, although there are a few where Costello employed gray or colored shading.
Costello usually based his drawings on photographs, engravings, cabinet cards, or other promotional materials, and these were often paired with an autographed card or letter, which he purchased from a dealer or obtained from another source.  A few autographs are originals, likely acquired by the artist firsthand.  Each drawing manages to expertly convey the unique personality of the particular performer or the character they are portraying.  Costello later went on to create a similar display in the 1920s as co-owner of another Scranton restaurant which featured his work, this time on Adams Avenue, the Oak Café.

In addition to drawing portraits of actors and actresses, Costello also lettered and illustrated theatre advertisements.  One delightful example (shown at left) in the Costello Collection advertises a week-long 1904 production of Cupid and Company, a musical with a book by Scranton newspaperman Tracy Sweet and music by prolific Broadway composer A. Baldwin Sloane.  In addition to Costello's skillful lettering, the intricate design features Cupid, a jester, a marotte, and other comic elements from the musical, as well as ribbons and acanthus leaves.
One of the interesting and important elements to note about these works by Costello is how they manage to preserve a portion of Scranton's cultural history that – with few exceptions – has been largely undocumented.  Many of the actors and actresses captured in his drawings (as well as the splendid buildings in which they performed), while well-known in their own time, have largely been forgotten today.  And yet, all these individuals contributed much to Scranton's arts scene during the late 1800s and early 1900s, and Scranton in turn likely made a significant impact on their careers.  The fact that many of these performers – such as May Irwin (Canadian vaudeville singer and actress), Elsie Janis (American musical comedy soprano) and Ada Rehan (Irish Shakespearean actress) – returned repeatedly to play Scranton, seems to indicate what an important stop the city was on both the national and international touring circuit.
The Weinberg Memorial Library is fortunate to present these digitized images – as well as many other digital reproductions of Costello's artwork – in our digital collections, and we are pleased to share with the public a rare glimpse of Scranton's early theatrical history through the eyes of a remarkable artist who lived through it – P. W. Costello.
For more information about the history of theatre in Scranton, check out Nancy McDonald's book If You Can Play Scranton: A Theatrical History, 1871-2010 – available here at the Weinberg Memorial Library and at several other Pennsylvania libraries.
David Hunisch, Digital Services Assistant
Kristen Yarmey, Digital Services Librarian