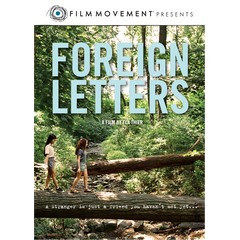 Please join us at 7:00 p.m. on Friday February 21, 2014 in Room 305 of the Weinberg Memorial Library for a free presentation of the American coming-of-age film Foreign Letters.  A brief discussion will follow the film.
Set in the 1980's, Film Movement describes Foreign Letters as the story of Ellie, a 12-year-old immigrant  from Israel who is lonely and homesick. Life brightens when she meets Thuy, a Vietnamese refugee her age. Trust slowly builds as the two teach each other about life in America. As Ellie and Thuy become inseparable, they eventually hurt and betray each other. Ellie must give up her most prized possession, in order to save their friendship. Based on filmmaker Ela Their's experiences, Foreign Letters is a story about prejudice, poverty, shame, and the power of friendship to heal us.
Foreign Letters is in English, Hebrew and Vietnamese with English subtitles.
This event is open to faculty, staff, students and the public. Please email Sharon.finnerty@scranton.edu for reservations.