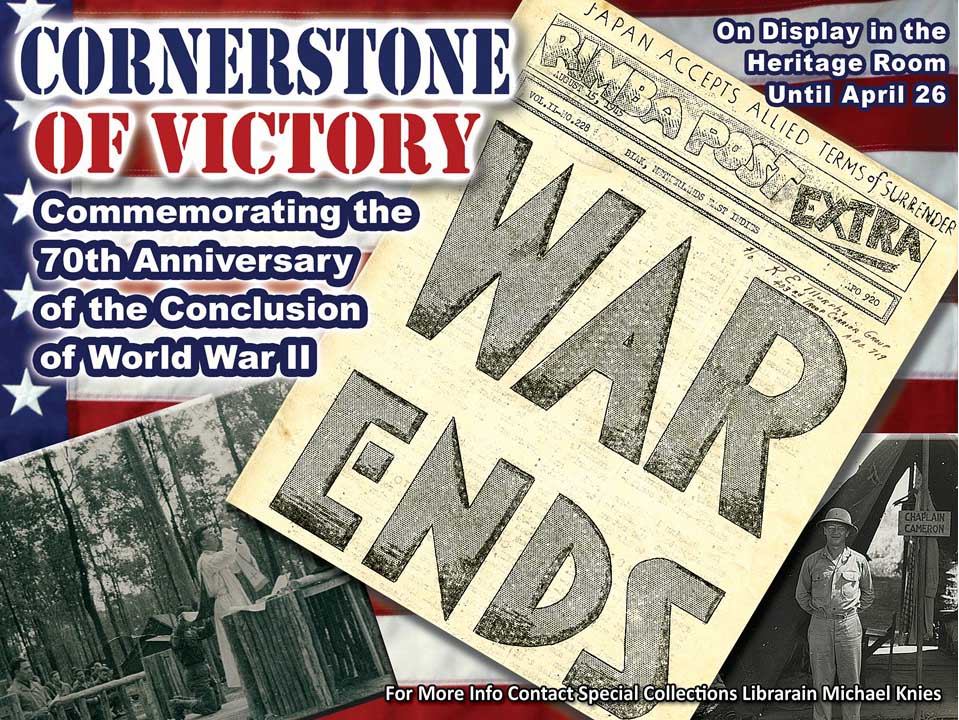 Millions of young Americans served in the armed forces from 1941 to 1945, including many students and alumni of The University of Scranton.  To commemorate the 70th anniversary of the formal conclusion of World War II, the Heritage Room is featuring an exhibit as a tribute to all of the men and women, particularly our veteran alumni, who went into harm's way to serve their nation.  The exhibit will be based on materials from the Helen Gallagher McHugh Special Collections and the University Archives. Although the McHugh Special Collections does not specifically collect material on World War II, a number of collections have relevant material that highlight the impact that this tragic event had on the University, our nation, and the world.
The Abe L. Plotkin Collection is focused on the end of World War II and immediately thereafter. Plotkin, a 1935 graduate, served in the United States military and was a witness to the liberation of the Ohdruf concentration camp. After the war ended, Plotkin assisted survivors of the concentration camp in getting in touch with American relatives. The exhibit will feature photographs and correspondence from his collection.
The recently acquired Passionist Congregation Archives contains Military Chaplain Reports. The Passionists, like other Catholic Church orders and congregations, provided chaplains to perform sacraments and provide counseling to soldiers. The collection contains photographs and reports from the chaplains detailing their day-to-day life and activities.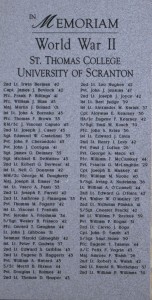 The Joseph Polakoff Collection primarily features his editorial writing on Middle Eastern affairs; however, during the 1940s Polakoff, a 1932 graduate, worked for the United States Information Agency, and some of his correspondence relates to World War II activities.
The exhibit will also feature assorted publications collected over the years that relate to the war. The University of Scranton underwent a transition from Christian brothers to Jesuit stewardship in 1942. Besides the change from the Christian brothers to the Jesuits, the University was significantly affected by the war, as were all other institutions of higher learning as young men went to war instead of University.
This exhibit reflects a period of great transition for The University of Scranton and an experience that shaped the character of many of our alumni, the institution, our nation, and the world. Seventy years ago, America rejoiced in the hope for enduring world peace. Through this exhibit, we aim to honor the bravery, honor, strength, and sacrifices of all veterans and those impacted by war.
This exhibit will be on display in the Heritage Room until Sunday, April 26, 2015. For more information, please contact Special Collections Librarian Michael Knies, Michael.Knies@Scranton.edu (570) 941-6341.