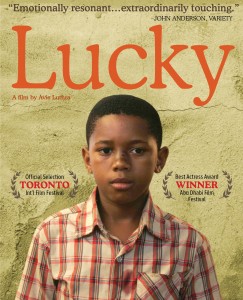 How could a recently orphaned, 10-year old homeless South African boy ever be called Lucky? Over the grave of his dead mother, Lucky makes a promise to make something of himself. Leaving the security of his remote Zulu village for the big city with the hope of going to school, he arrives on the doorstep of an uncle who has no use for him. Lucky then falls in with Padme, a formidable Indian woman with an inherent fear of Africans, who takes him in as she would a stray dog. Together, unable to speak each other's language, they develop an unlikely bond. Through an odyssey marked by greed, violence, and ultimately belonging, Lucky shows how a child's spirit can bring out decency, humility and even love in adults struggling to survive in the new South Africa.
Directed by Avie Luthra this award-winning South African film is in Zulu, Hindi and English with English subtitles.
Please join us on Tuesday September 22nd at 7pm in Room 305 of the Weinberg Memorial Library for this free event. Jean Lenville, Assistant dean of the Library, will lead a discussion after the film.
This film is open to faculty, staff, students, and the public. Please email Sharon.finnerty@scranton.edu for more information.