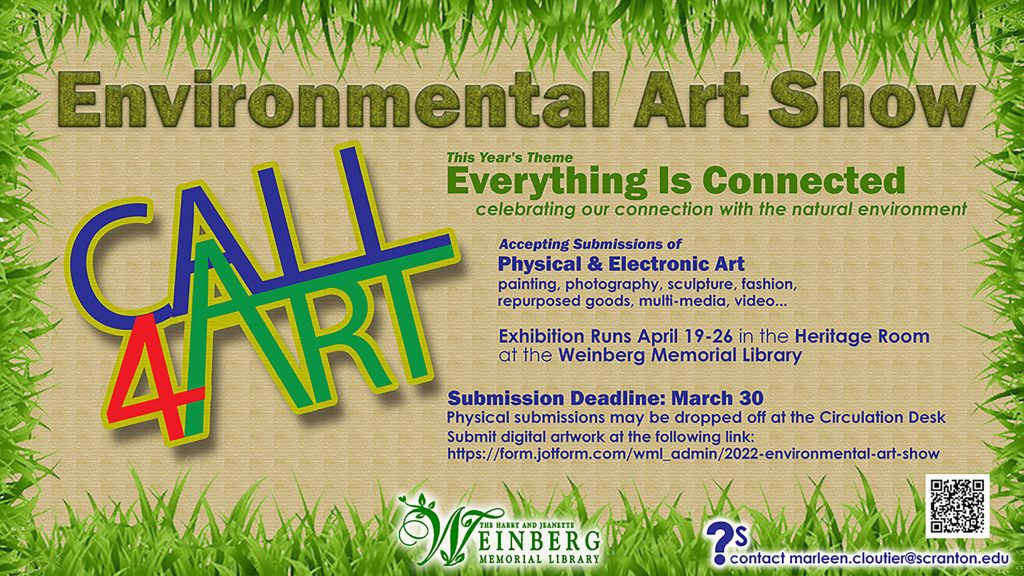 The Weinberg Memorial Library is seeking submissions for our annual exhibit of Environmental Art. The deadline for submissions is set for Wednesday, March 30th, 2022. All physical works of art can be dropped off at the Circulation desk on the 1st floor of the library. All artwork is returned after the art show ends.
The art show will be held in the Heritage Room of the Weinberg Memorial Library from April 19-26, 2022.
Environmental Art promotes the natural beauty of our environment and the ideal practice of sustainable living through artworks of all types, including painting, photography, repurposed goods, sculpture, video, and more.
Everything is Connected: Celebrating our Connection with the Natural Environment is the theme for 2022. We encourage artists to consider developing artwork around this year's theme. Submissions are open to all and we encourage submissions by University of Scranton students, staff, faculty, and alumni.
This year, in addition to the physical exhibit, we will be offering the option to also exhibit virtually. The virtual exhibit will debut during Earth Week on April 19, 2022. If you are submitting digital artwork, you can submit your artwork at the following link:
https://form.jotform.com/wml_admin/2022-environmental-art-show
You can view our 2021 virtual exhibit and photos of some of our previous in-person exhibits at:
https://digitalprojects.scranton.edu/s/environmental-art-exhibit/page/exhibit-home
If you would like to submit but have questions, need assistance with your submission, or are submitting physical artwork from outside the University please contact Marleen Cloutier at marleen.cloutier@scranton.edu.