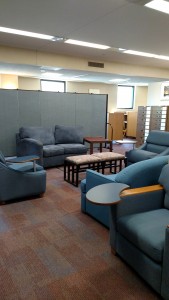 In conjunction with the 2nd floor being open 24/7, the Library staff has made some furniture changes. There is a new casual seating area where  microfilm cabinets used to be. Some carrells, tables, and casual seating were rearranged to make better use of the natural light from the windows on the Galvin Terrace side. A high table and two stools are now near the windows overlooking the hydrangea garden.
The two large study rooms are no longer considered "group" study rooms. They are now being called  "individual" study rooms and are designed for several individuals studying or working quietly. One room has mostly office furniture. This room also has three computer workstations. The other room has six indvidual study carrells and two large desks.
Later on this semester we will be asking your opinion about these and other changes.