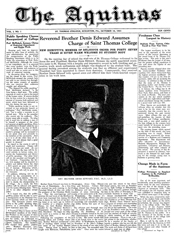 Did you know that that archival issues of the Aquinas, the University of Scranton's 77-year-old student newspaper, are available online? In the Weinberg Memorial Library's digital collection, you can browse and search every issue from Vol. 1, No. 1 (October 16, 1931) through the last issue of 2007 (May 10).
(Side note: We love reading Tommyrot, a gossip column in the 1930s and 1940s that reported all the campus dirt.)
If you're looking for current Aquinas articles, be sure to check out aquinas.jlcclients.com, where you can find the latest student news.  You can also follow @scrantonaquinas on Twitter for updates.