The Weinberg Memorial Library's Diversity, Equity, Inclusion, & Accessibility (DEIA) committee in collaboration with the Library Systems department is pleased to announce our sensory and accessibility map of our library spaces. In recognition of the ever increasing diversity of our population of Library users, the committee recognized the need for our users to be able to have a clearer picture of what our Library spaces provide and how our Library spaces may meet their specific needs. In the Spring and Summer of 2023, the DEIA committee membership audited and collected accessibility and sensory data for each study space in the library. The committee then examined what both our peer institutions and Libraries at many larger institutions were doing in order to provide this information in an accessible and understandable format. We settled on a few specific design ideas we wanted to emulate.The committee then turned our findings over to Library Systems Coordinator & Developer Jennifer Galas, whom created an interactive web application which includes photos of our Library spaces, coupled accessibility, and sensory information for each of the study spaces within the Library. This web application is also linked to our study room reservation system, so users can find a space that suits their needs based on the information within the application and then immediately reserve that specific study room if it happens to be one of our reservable spaces. Find Library Spaces can be accessed via the library homepage by clicking on the button labeled "Find a Study Space" on the right-hand side of the page. You can also find links to it on the Library SPaces page, and the Library's DIversity Equity, Inclusion & Accessibility page.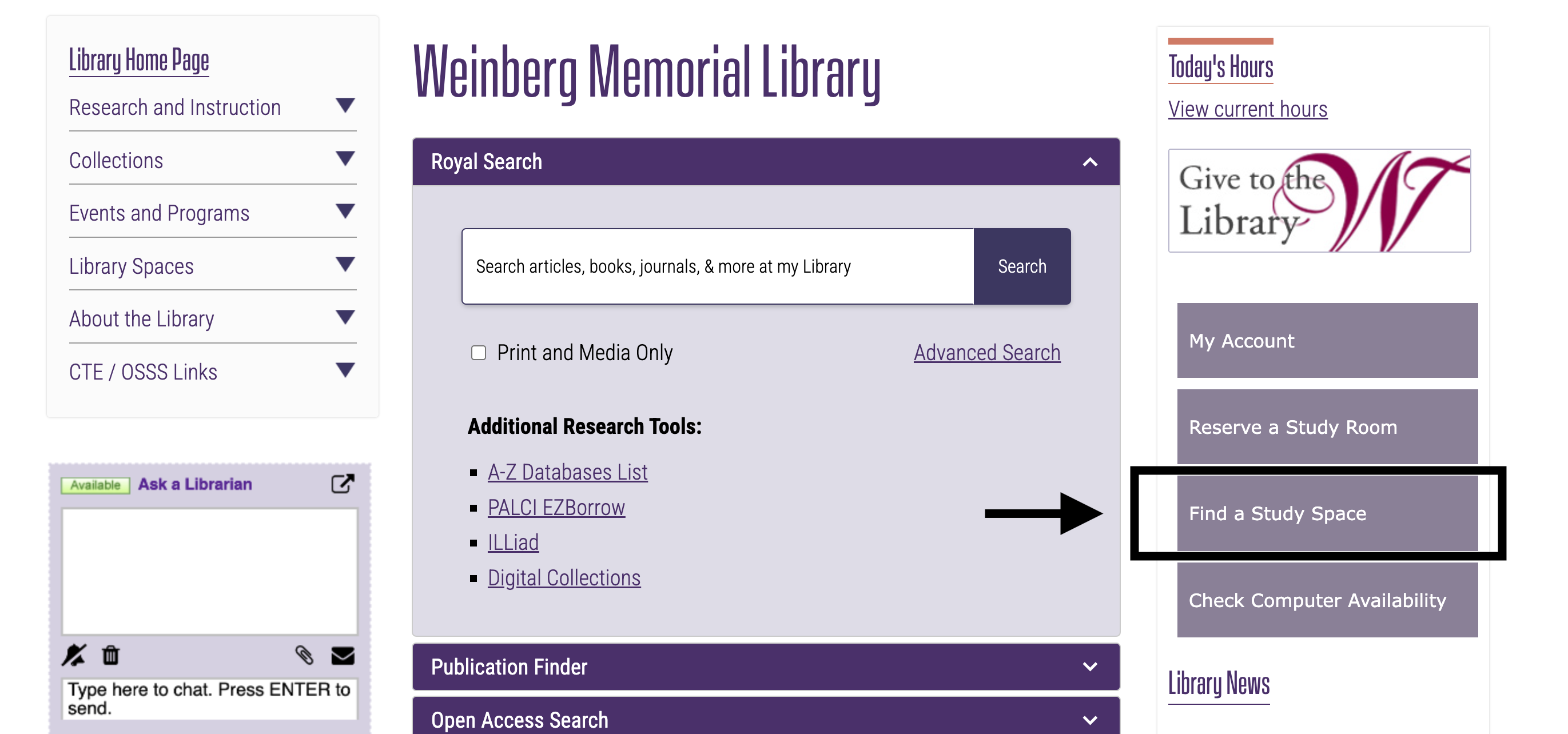 Find Library Spaces was intentionally designed for all users of our library to be able to find the ideal study space that meets their learning needs. The Find Library Spaces application features a number of filters that can help users limit to a preferred lighting type, find a space that has  specific furniture available, or look for a study space that is quiet and distraction free. Each space has associated icons that notate access to power, wheelchair accessibility, and noise level demonstrated by a loudspeaker icon with varying degrees of sound waves to indicate more or less noise typically found in that space. Users should keep in mind that noise level information may change depending on semester dynamics, such as during finals week when the library is quite crowded.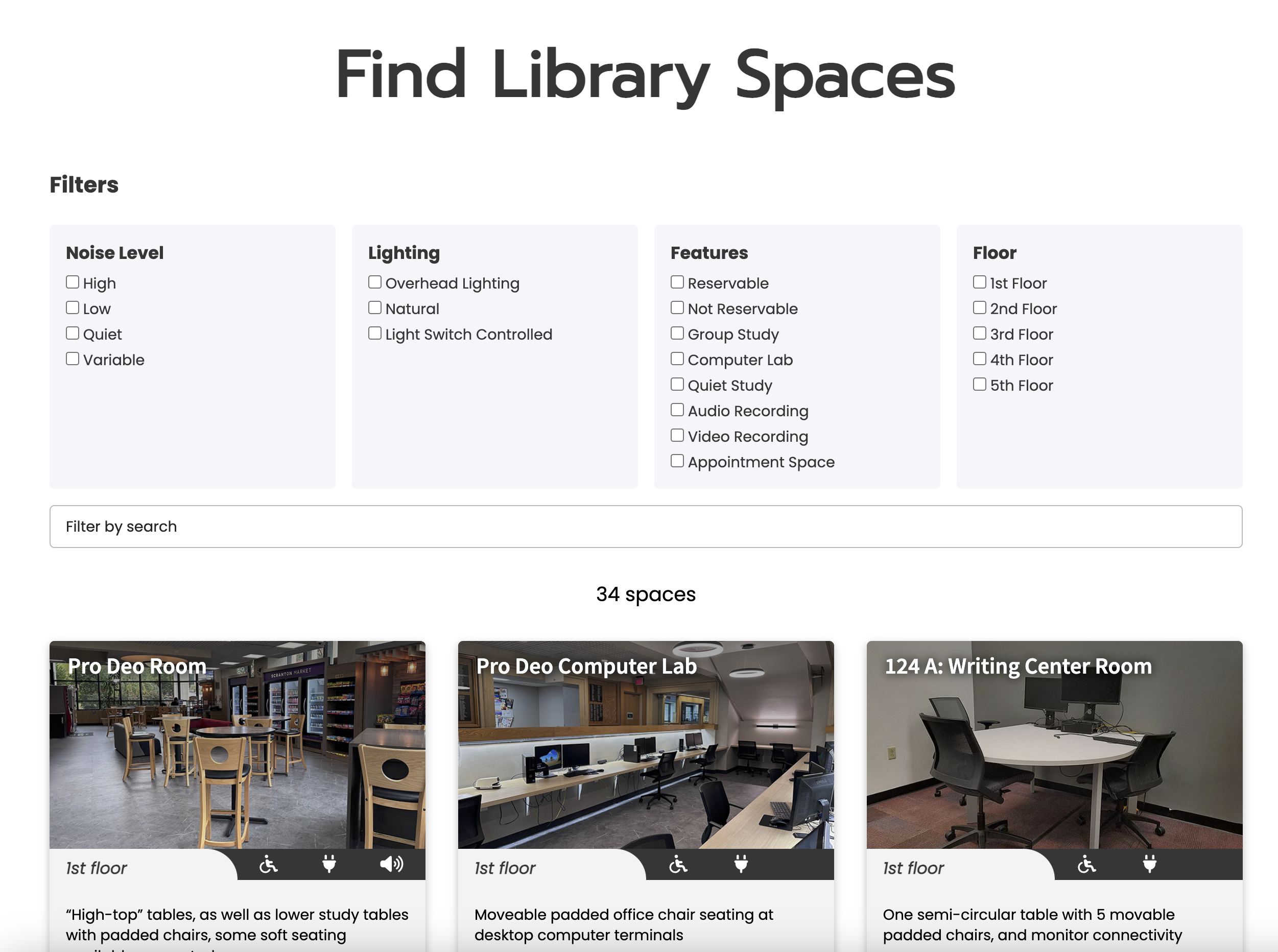 It is a priority for Library faculty, staff, and administration to continually provide an environment of inclusivity, accessibility, and belonging and the Find Library Spaces application provides another tool for students to access in order to meet their specific learning needs within the Library environment. The Library DEIA Committee is currently comprised of Prof. Kate Cummings, Research & Instruction Librarian for Business; Prof. Colleen Farry, Digital Services Librarian, Prof. Sheli Pratt-McHugh, Research & Instruction Librarian for Technology & Outreach, and Library Department Chair; Prof. Ian O'Hara, Research & Instruction Librarian for Health Sciences; Sharon Finnerty, Media Resources Coordinator; and Kevin Kocur, Interlibrary Loan Coordinator. The committee would also like to thank Mackenzie Machell, G '23, who served as a student representative on the committee during the work on this project, and Jennifer Galas for her collaboration and development expertise in implementing the Find Library Spaces application.