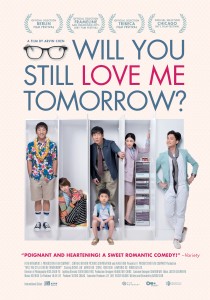 Please join us on Wednesday November 18, 2015 at 7 p.m. in Room 305 of the Weinberg Memorial Library for a free presentation of the Taiwanese comedy "Will You Still Love Me Tomorrow?"
Film Movement describes the film as a lighthearted comedic romp, where introvert Weichung begins to question his marriage to Feng when she signals she's ready to have another baby, and an unexpected encounter with a friend from his past awakens long-dormant emotions. It all sets him off on a quest for true romance and desire.
Directed by Arvin Chen "Will You Still Love Me Tomorrow?" is in Mandarin with English subtitles. Dr. Ann Pang-White will lead a discussion following the film.
This film is open to faculty, staff, students, and the public. Please email sharon.finnerty@scranton.edu for more information.