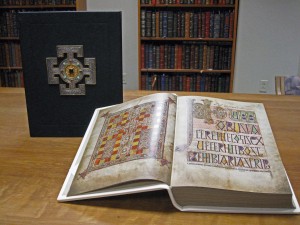 The Weinberg Memorial Library Special Collections recently received an extraordinary gift in honor of the 20th anniversary of the Library.  Dr. Midori Yamanouchi, Friends of the Weinberg Memorial Library Board Member, provided funding for the acquisition of a fine art facsimile of the Lindisfarne Gospels.  The original Lindisfarne Gospels is at the British Library in London, and it is one of the most important and one of the best-preserved early medieval manuscripts.
The Lindisfarne Gospels is an Illuminated manuscript gospel book created approximately 715-720 AD in a monastery at Lindisfarne off the coast of England. It is considered one of the best early versions of St. Jerome's Latin Vulgate.  The Lindisfarne Gospels also includes an interlinear Old English translation of the Gospels.  This word-for-word English gloss was added to the Gospels around 950-970 AD.  It is the oldest known translation of the Gospels into English.
This fine art facsimile of the Lindisfarne Gospels was produced in 2002 by Faksimile Verlag of Luzern Switzerland, a company that specializes in the highest quality reproductions of liturgical medieval manuscripts.  The facsimile was produced in cooperation with the British Library using state of the art digital photographic technology.
The facsimile is currently on display in the Library's 4th floor Special Collections Reading Room.