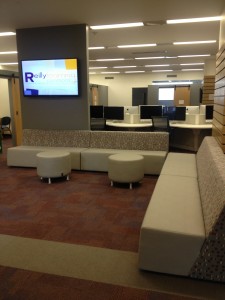 The Reilly Learning Commons is now open 24 hours!! HURRAH!! As you enter the space you'll notice lounge seating and a large digital sign to share news and updates about the Learning Commons.

The first two rooms as you enter the space are for the Writing Center. They'll be providing tutoring here with both appointments and drop-in hours. To see their full hours for the space visit the new webpage. When tutoring is not scheduled, the rooms will be available for students to reserve.
There are 5 additional group study rooms around the perimeter. They also have large monitors with HDMI wires for students to view their laptops as a group. The group study rooms are reservable by visiting the website. We are encouraging students to always reserve a room so another group does not show up and ask them to leave. In each of the rooms, the blue walls are writeable! Some have chalk and some have dry-erase markers.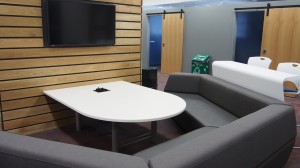 There are four booth seating, or collaboration areas with large monitors and HDMI cords. You just have to plug the cord into the HDMI outlet on your laptop, this turns the TV on automatically. Once the TV is on, just push the play button on the wire and it will send the screen to the large monitor. You'll be able to work on group projects more easily! Four students can have their devices plugged in at a time and switch between them by pushing the play button on each cord. These seating areas also have two stools and a high counter for additional students to work together.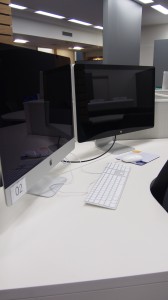 In addition to the group study rooms and the collaborative booth areas, we've also added 6 new high end PCs and 6 new iMacs! They each have dual monitors and have brand new software including Adobe Creative Suite, iMovie, Final Cut Pro, and more. We've ordered additional chairs so students will be able to work in pairs at these stations. We also have our 19 old lab PCs, and several open stations for students to bring their own device.
Along the back wall you'll find the Tech Support office that will be staffed by student workers throughout the semester to help with technology in the space. The middle room along the back wall is for Lecture Capture. Students will be able to reserve this room and it will be used to practice presentations and record them online using Panopto, the same software used in classrooms for lecture capture.
The funding for the Reilly Learning Commons was done entirely through fundraising by the Library Dean, Charles Kratz and the University's Development Office. The planning was done by a team of librarians, teaching faculty, members of IT Services, CTLE, campus facilities, and a design from architects Hemmler and Camayd.