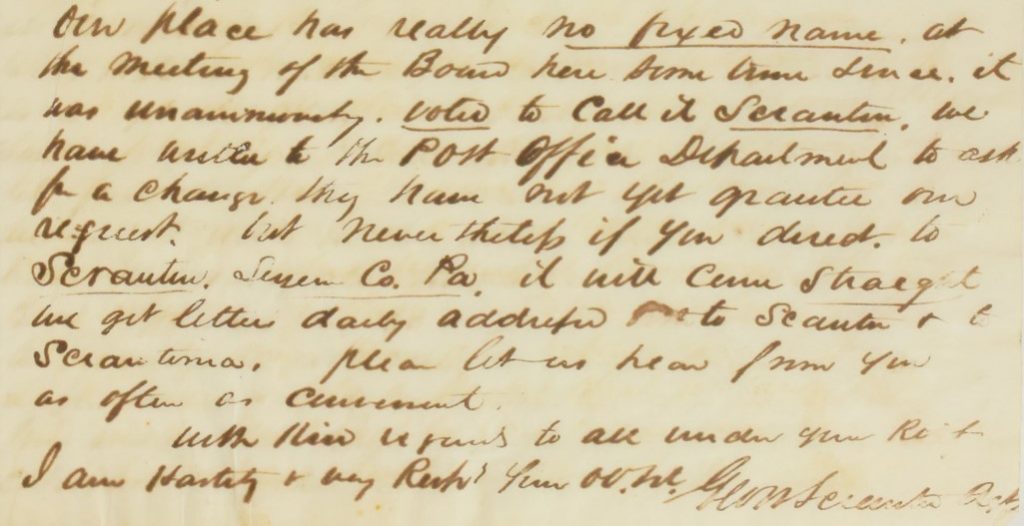 Following our recent Scranton Family Papers Scanathon, held in partnership with the Lackawanna Historical Society, the Scranton Public Library, the State Library of Pennsylvania, and our own University of Scranton Department of History and Royals Historical Society, the Weinberg Memorial Library is proud to announce that over 570 letters and documents (dated 1840-1875) digitized from the Lackawanna Historical Society's Scranton Family Papers Collection are now publicly available online in the Library's digital collections at www.scranton.edu/library/scrantonfamily.
The majority of the digital collection is made up of 423 letters (dated 1850-1854) digitized from 2 volumes of George W. Scranton's outgoing office correspondence. The letters document Scranton's management of his many business concerns, including Scrantons, Platt and Co., the Ligett's Gap Railroad, the Cayuga & Susquehanna Railroad, the Delaware, Lackawanna and Western Railroad, and the Lackawanna Iron & Coal Company. The correspondence also provides insight into the development (and naming!) of the city of Scranton, including the construction of the city's first hotel, the Wyoming House. Thanks to transcriptions prepared by LHS volunteers Dennis, Sharleen, and Scott Martin, the digitized letters are full-text searchable.
The remainder of the digital collection holds loose correspondence, ledger books, and other documents (dated 1840-1874) belonging to Joseph H. Scranton, Selden T. Scranton, George W. Scranton, and William W. Scranton. Transcriptions for most of these handwritten documents have been completed by Weinberg Memorial Library staff; additional transcriptions will be added into the collection as they are completed.
We thank all of our partners and volunteers for their time, effort, and moral support in this project, and we look forward to continuing our collaboration in the future!