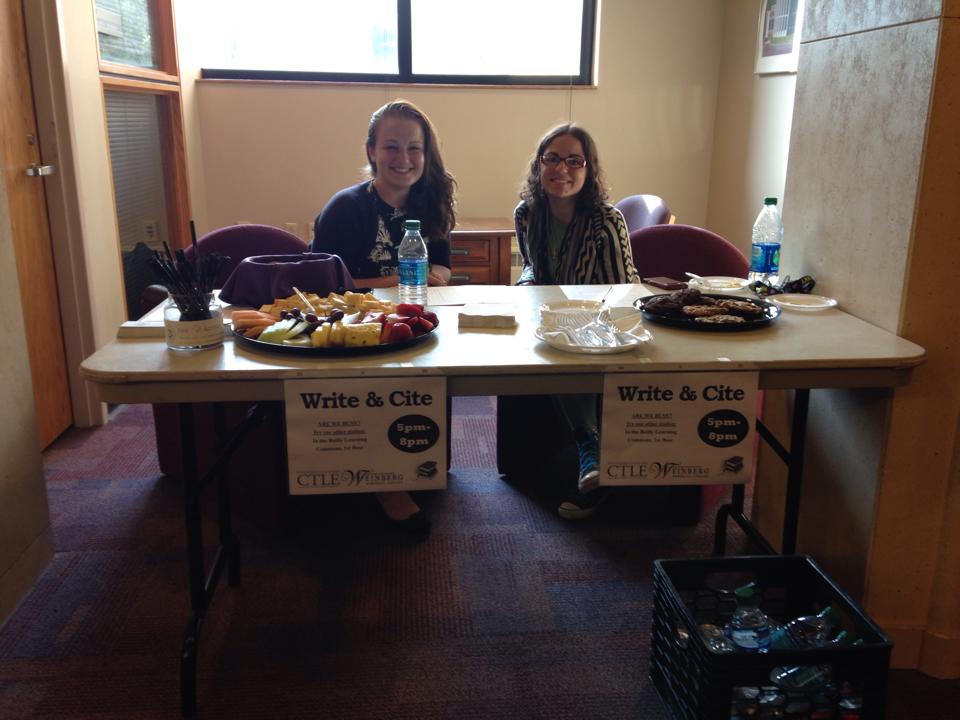 Last Tuesday and Wednesday, May 13th and 14th, the CTLE's Writing Center set up camp in the Weinberg Memorial Library to offer assistance to students with their final papers.
This collaboration between the Writing Center and the Library was called "Write & Cite," and included 4-6 Writing Consultants located at two stations (with refreshments!) during the evening on the Tuesday and Wednesday of Dead Week. Consultants were available for drop-in appointments in the 1st floor Reilly Learning Commons and the 2nd floor Reference Desk area from 5 to 8 pm both nights. The premise was for consultants to be available to assist students with their writing where that writing was actually taking place, and the close proximity of the Reference Desk meant students could also be referred to a Reference Librarian for assistance with formatting their citations.
And the event was a success! Thirty-three students received assistance through writing consultations over the course of both nights of the program, with three referrals to a librarian for citation assistance.
Miss your chance to meet with a Writing Consultant during Spring 2014's "Write & Cite" event? Do not fear: beginning in Fall 2014, the Writing Center will have two satellite locations in the Reilly Learning Commons, making our resourceful Writing Consultants a permanent fixture in the Weinberg Memorial Library.
Many thanks to the Writing Consultants for making this event the success it was, to Amye Archer, Writing Center Coordinator, for planning the event, and to the CTLE for furnishing the refreshments.