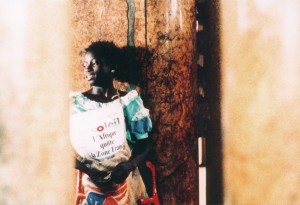 The International Film Series presents a free screening of The Little Girl Who Sold the Sun (La Petite Vendeuse de Soleil) on Wednesday November 19th at 7 p.m. in the Moskovitz Theater in The DeNaples Center. Dr. Annie Hounsokou will lead a discussion following the film.
Set in Dakar, Senegal The Little Girl Who Sold the Sun is director Djibril Diop Mambety's tribute to street children. It tells the story of Sili Lam, a resilient twelve year old paraplegic who is the lone girl in the competitive world of male newspaper vendors. With the local policeman suspicious of her good fortune when she sells all her newspapers and the newsboys taunting her, can Sili persevere and rise above her difficult circumstances?
The Little Girl Who Sold the Sun is in Wolof with English subtitles.
This event is open to faculty, staff, students and the public. Please email sharon.finnerty@scranton.edu for more information.
Film series sponsored by a University of Scranton Diversity Initiative Grant through the Office of Equity and Diversity.