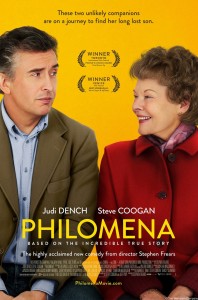 Please join us on Tuesday September 16, 2014 at 7:00 p.m. in the Moskovitz Theater in the DeNaples Center for a free presentation of the 2014 Best Picture Nominee Philomena. Dr. Lawrence Kennedy will lead a discussion following the film.
The title character of Philomena is played by Academy Award winning actress Judi Dench. Philomena, an elderly Irish woman, is searching for her son who had been adopted almost 50 years earlier. With the aid of journalist Martin Sixsmith, played by Steve Coogan, she heads to the United States to find her son.
Directed by Stephen Frears', Philomena is in English.
This event is open to faculty, staff, students and the public. Please email sharon.finnerty@scranton.edu for more information.
Film series sponsored by a University of Scranton Diversity Initiative Grant through the Office of Equity and Diversity.