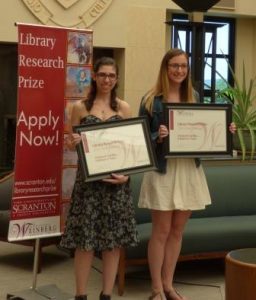 Christina Gavalas and Marjorie Toron, seniors in the Occupational Therapy program, are the winners of the 2016 Library Research Prize for Undergraduate students. They completed a group project for OT 494: Evidence-Based Research.
The Weinberg Memorial Library inaugurated the prize in 2011 to recognize excellence in research projects that show evidence of significant knowledge of the methods of research and the information gathering process, and use of library resources, tools, and services.
Honorable Mention awards in the undergraduate category included Alyssa Rodemann, a senior Psychology major; Emily Pocius, a junior English major; and Tim Zinna, a sophomore Finance major.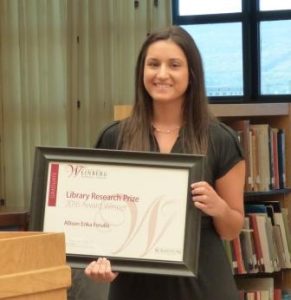 The winner of the 2016 Library Research Prize for Graduate students is Allison Ferullo. She is a student in the Nurse Anesthesia Graduate Program and is certified as a Critical Care Registered Nurse (CCRN) as well as in Trauma Nursing Critical Care. Her individual project for NURS 593: Research Methodology was a literature review on distractions in the operating room.
Prize winners were honored at a reception on Thursday, May 12, 2016 in the Heritage Room of the Weinberg Memorial Library.
Information about the Library Research Prize can be found on the website: http://www.scranton.edu/libraryresearchprize